---
CONFERENCE THEME
"Integrating Qualitative and Quantitative Approaches: Tensions, Challenges and Possibilities"
---
ACTIVIIES AT A GLANCE
MONDAY 25TH MARCH
Preconference workshop QDA Miner 9am-5 pm SCHOOL OF EDUCATION, SOE (registration needed through conference website)
Cheryl Poth workshop- Designing and managing mixed methods Studies in pure and applied settings , 5-8 pm-SALISES (by email invitation)
Sponsor booth set up in the Atrium – Arthur Lok Jack Global School of Studies (ALJGSB)
TUESDAY 26th MARCH
Opening ceremony 9-10 am (ALJGSB)
Conference Day 1 (registration on conference website)- (ALJGSB)
WEDNESDAY 27th March
Conference Day 2 (ALJGSB)
Distinguished Open Lecture- John W. Creswell- 6pm-8 pm, SCHOOL OF EDUCATION (email request to attend)
THURSDAY 28th MARCH
 Conference day 3(ALJGSB)
Closing ceremony 330-430 pm (ALJGSB)
Networking Lime 5 pm – 8 pm -UWI Inn and Conference Centre
FRIDAY 29th MARCH
Yerette bird tour- Maracas Valley (40 usd) - Sign up at registration desk (AM)
Maracas beach lime (10 usd) –PM- Sign up at registration desk
CONFERENCE ITINERARY AT A GLANCE NOW AVAILABLE
Click here to download the conference itinerary.
Full Daily Conference Programme
About the Conference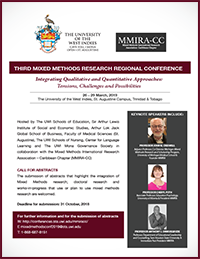 The MMIRACC Regional Conference aims to provide a forum in the Caribbean for a thought-provoking experience of mixed methods research as a driver of a holistic and multidisciplinary interrogation of the concerns of the world's peoples, through the provision of a solution-oriented forum in which global and regional scholars and decision-makers can share their ideas.
Our Collaborators
The Mixed Methods International Research Association- Caribbean Chapter (MMIRACC) together with  The Schools of Education – STA, Mona, Cave Hill, SALISES, , Arthur Lok Jack Global School of Business, Centre for Language Learning and the Schools of Nursing (STA, Mona) present the 2019 Mixed Methods Conference -in Trinidad.
About The Mixed Methods International Research Association (MMIRA)
The MMIRA is a global community of researchers with interest in mixing methods. The President of the MMIRA, Professor Cheryl Poth, leads a dynamic team that aims to advance discussions and conversations from diverse disciplines and multiple perspectives. Please see the website for more information. http://mmira.wildapricot.org
About The Mixed Methods International Research Association - Caribbean Chapter (MMIRA-CC)
The MMIRACC was founded in March 2017 in Jamaica and is chaired by Dr. Loraine Cook, School of Education, Mona. This chapter is committed to creating a forum in which persons can share cutting-edge ideas and best practice recommendations regarding the integration of qualitative and quantitative approaches to problem-solving. This recently formed chapter is dedicated to transforming the ways in which phenomena can be understood and transform decision-making practices to enable our individual and collective development. The website is in formation and information about the chapter will soon be released.
Why Mixed Methods?
Mixed methods bring together two diverse research approaches-qualitative and quantitative. Quantitative approaches are useful in describing patterns about a whole group being studied and use numbers and statistical data to represent what are typical about the group. For example, quantitative market surveys can give information about product popularity and can indicate group preferences. However, quantitative data do not indicate why groups have certain preferences. So qualitative data give voice to perspectives from individuals or subgroups, whom we may wish to understand more deeply.
As such, mixing qualitative and qualitative approaches can help to deepen and broaden understandings of the phenomenon being studied. Decision-making can be improved if evidence and research data are available, current and relevant.
Who Should Attend
Whether you consider yourself a qualitative or quantitative researcher, you should not miss this conference on methods. All persons who conduct, supervise, or have an interest in research can benefit from understanding more about research methods. The three keynotes are luminaries in their fields and offer insights and experiences that are unmatched. 
Mixed methods can serve to improve the quality of current research projects, help to build research capacity within the region, and thereby enable knowledge transfer to corporate and non-corporate organizations. Mixed methods is cross-disciplinary and multi-faceted and is useful for research in education, medicine and health, marketing, social sciences, gender and family development studies, and many other areas.
Keynote Speakers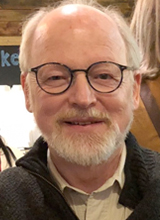 John W. Creswell, Ph.D
Cheryl Poth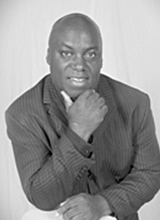 Anthony J Onwuegbuzie